Lorry Roller Repairs
Here at GM Steel not only can we provide you with a brand-new overhead railing system, bodies, hooks and spares but we can also repair those bodies that you have overused.
As part of this service we accept your damaged bodies, inspect them free of charge and if repairs can be made, we will refurbish them and send them back to you in full working order.
Our current price is:
Lorry rollers repairs (both sizes) = £15.00 (per unit).
Outlined below is an example of how we receive used bodies for repair and how we recondition them: Any questions or queries please contact us.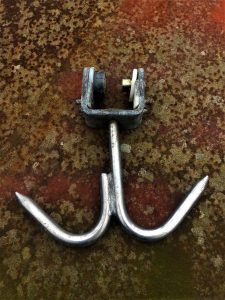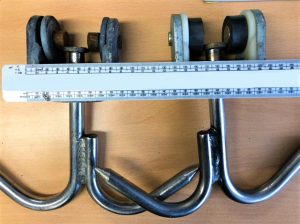 Description of Issues

Wheels – both wheels (or one wheel) have been lost/damaged. There also appears to be rusty rivets.
Nylon guides (rectangle/round) – damaged/not present.
Repair or Maintenance Work
Brand new wheels/rivets fixed in place and welded.
New nylon inserts added and pressed.
Hooks cleaned (if required).
Roller body cleaned to remove marks and furring.
The end result has the appearance of a 'near-new' model.
We offer various used and reconditioned equipment and machinery; these listings are updated regularly and are subject to availability.
If you require something that is not currently listed, please contact our customer service team who will do their upmost to help you find what you are looking for whether direct from us or from another supplier.
We can also offer new lorry rollers in 2″ & 2.5″: https://gmsteel.com/product-category/hooks-slaughtering-transport/lorry-rollers/
We are also keen to obtain used equipment so if you are looking to offload a piece of machinery or device that you no longer have use for, then don't hesitate to get in touch.
Call our office today on 01636 676483 or click here